5 min read
#Miscellaneous
Remote Onboarding Process at 8Bit explained
See similar blog posts
What is Onboarding in Recruitment?

Employee onboarding is the process of integrating a newly hired person into a company. Onboarding, also known as organizational socialization, is vital to assisting new team members in understanding their new roles and job needs.
A properly handled onboarding process allows the new employee to blend seamlessly with the company. As a result, onboard employees feel more confident and capable within their current roles when the process is finished.
Some people claim you need to sit down and make it happen face-to-face. Not on our turf, no! Our process is 100% remote.
What are the steps in the Recruitment Onboarding process?
Pre-onboarding
First day! Yay!
Role-specific training
Complete Transition to the Role
What does the Onboarding process look like at 8Bit?
We take the onboarding process heavily seriously. Giving you the best possible start benefits both you and the team as a whole.
We know that feeling comfortable in a new role, in a new team as a Gamedev Recruiter, or as a Professional of a different Speciality takes some time. We don't expect anyone to hit the ground on day one.
Framework, engagement, and an awesome team – our keys to success!
We believe that our strength lies mostly in building an organization that is true to its values. Therefore, we tend to attract people that want to show a more humane approach to Recruitment in gamedev. The dedicated and specialized 8Bit team is always there to help and guide new team members.
But the extraordinary team is one thing, but without a proper and smooth framework for Onboarding, our process wouldn't be so smooth.
We built a workflow that we follow to the T with each new hire.
Each team member can expect to follow the path prepared by our HR team.
Pre-Onboarding at 8Bit – Onboarding process explained
Onboarding at 8Bit starts way before your First day in the company.
Our HR Manager prepares the necessary steps for you to ensure that your experience in 8Bit will be as awesome as possible.
We're sorting out your contract, new hire paperwork and answer your additional questions
We're preparing a custom onboarding experience for you
We're taking care of your equipment needs
We're assigning you a person who is going to be your primary go-to contact and a guide through your early days as a new employee at 8bit
You meet that person before joining.
We're making sure that you'll have access to all tools that you're going to use in your new role at 8bit
Aaaaand we're all waiting for you to join us on your first day! 🙌
First Day of Work at 8Bit – The successful onboarding program explained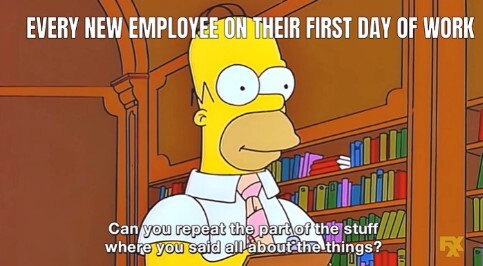 A great day indeed! Parteeey! You get to know the whole 8Bit team! And on this day, your journey as a new employee starts. You'll learn what steps of the onboarding process are prepared for you.
You also get a private board where you can track your progress. It's a very transparent overview of what is ahead of you. Everyone knows what to expect. That's our company policy. We highly value transparency in our team.
You'll get a chance to learn about the core of what 8Bit does. You'll hear about the company's origin, values, company culture and mission we've set ourselves.
You'll join our Slack channel and have a chance to book a call with the team and get to know each other a bit!
You'll be introduced to the tools we're using. Get access to the database and the training platform we're using to level up.
Role-specific training – The onboarding program explained
In the next step of the journey, you'll get to know the meaty part. You'll learn specifics of what we do, about the 8Bit's way of Recruitment.
You'll have a thorough presentation about the roles we're working on and about our partners. But even if you won't be able to remember this at once – don't worry!
We have a meticulously prepared database that you'll have access to on day one! So everything that you'll learn in your early days – you can always access later on! After filling your head with hard data, it's time for your first Recruitment tasks. You'll get a chance to check how our Recruiters conduct them.
But do we need you to follow the same exact way? Hell no!
What is very important in how we're working is that we don't want to put you in a position where you need to follow the same template repeatedly.
We trust our employees, their judgment, and their experience.
We dare our teammates to look for new ways to make sure that the process we're offering to our partners (game studios and game developers) works smoothly, is working, and allows every interested part of the party to be experiencing the best that you could hope for in the recruitment process.
Mind that on every step of your journey; you'll have a team full of people who cheer for you and are there for you to help you all the way. If you have any questions – you can always reach out to any of us, and we'll gladly assist you.
Complete transition to your role at 8Bit – The onboarding process best practices explained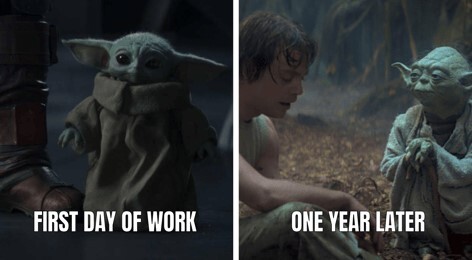 So you know how our 8Bit recruitment machine works. You've witnessed how our fellow Recruiters are handling interviews, right? Then you're ready to take on your full Recruitment responsibilities. Now it's when the party actually starts. 😀
Sometimes the road to making your first placement can be a bumpy one. We know. But do you know what happens when you find it hard to push through? So we're here to help you out with your recruitment struggles.
Our team is here to help you find what can be improved, and they always share their know-how and best practices.
Remember that our doors are always open to the people who would like to change the way GameDev Recruitment is perceived. If you would like to get to know more about us – read more here.

If you have any questions – our socials are waiting for you!