4 min read
#Game industry
8Bit's Top 11 Moments from Gamescom 2023: An Exhibitor's Inside Look
See similar blog posts
To mark our brand's upcoming 8th birthday (coming soon this September!), we powered up and leveled into Gamescom 2023 – the must-attend annual gathering for gamers, cosplayers, game devs, and all things gaming! As exhibitors, we had a front-row seat to the action, and here are the highlights and boss-level tips we took away!
Tips and Tricks for Job Seekers:
1. Networking Hotspots
At our booth, the lion's share of interactions were with job-seekers and decision-makers from game studios. A little insider tip: larger company areas tend to be manned by temporary staff. So, if you're looking to make genuine industry connections and potentially network your way into a new opportunity, it's the B2C zone or the Indie hall where you'll want to dive deep. That's where the real magic, and perhaps your next big career move, awaits.
2. Digital Portfolios Win
Got skills? Flaunt them via a QR code that directs to a slick mobile-friendly portfolio. Physical resumes might demonstrate effort, but imagine us, exhibitors, overloaded with paper amidst the gaming chaos. A pro-tip? After conversing, jot down names and shoot a LinkedIn message, reigniting the chat and sharing your work.
3. Engage and Enjoy
Strike up discussions about games. Be candid with your opinions about a studio's creations. Test those games! Your main goal might be job-hunting, but remember to enjoy the event too!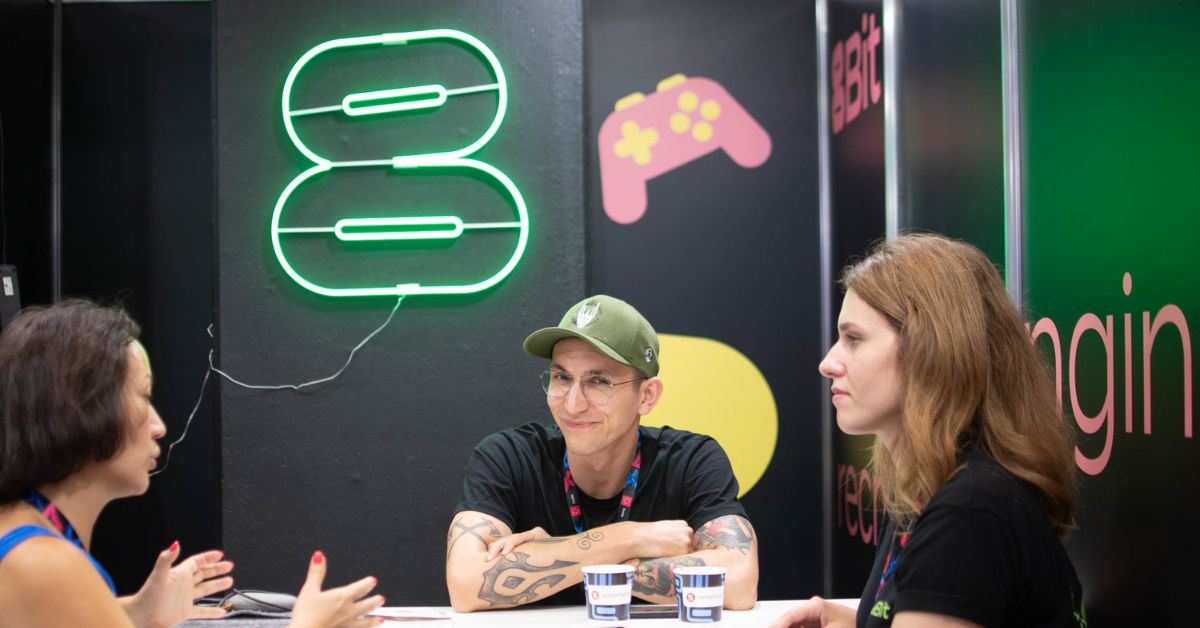 Gold Nuggets for Exhibitors:
4. Leveraging Apps
Gamescom 2023 was a loot box of opportunities. Maximizing potential meant pre-scheduled meet-ups. We worked with the official gamescom biz app – it's alright, but next year, we might try Meet to Match for a smoother experience.
5. Early Bird Gets the Worm
Landing 2-3 days early? Game-changer. There's a treasure trove of networking gold (props to Women in Gaming International and Amazon Web Services for hosting a stellar business mixer, set against the breathtaking views from KölnSKY's 27th floor. Additionally, a big shoutout to KölnBusiness, ZENIT, and NRW.Europa for orchestrating an entire day dedicated to global networking), plus it lets you scout your booth, ensuring your game plan is on point. Familiarize yourself with shortcuts around the venue — trust us, it helps.
6. Ally with Booth Neighbors
Form alliances with neighboring booths. They're your co-players for the duration, offering backup from sharing essentials to snapping memorable photos. We even swapped merch with our awesome neighbors from Stor. Those 8Bit socks looked legendary on them!
7. Stay Agile
We rolled into Gamescom with a meticulously prepped agenda. Did we have to go off-script and shuffle things around? Absolutely. The trick? Unified team goals and seamless communication. And let's not forget those moments of uncontrollable laughter that not only helped us unwind but also made every unexpected twist totally worth it. Those chuckles were as precious as the planned milestones!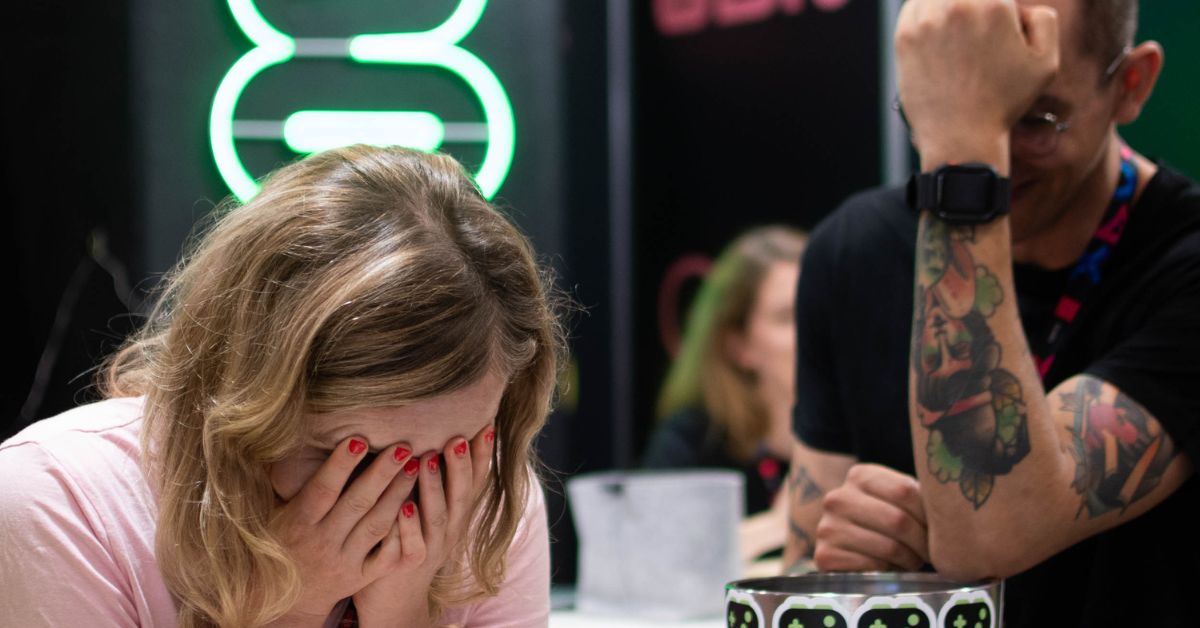 Quest Guide for Gamescom Visitors:
8. Explore Beyond Big Names
Lots of AAAs graced the event with their larger-than-life stands. During the event, the game studios not only showcased their latest and up-and-coming games but ensured visitors were engaged with various activities and walked away with memorable merchandise. But here's the thing. Big studios, with their shiny, mesmerizing displays, are just the start. Dive into the world of indie developers. Their innovative creations might just be the hidden gems you're seeking. Don't stick to the big names, check those indie guys!
9. Prep for the Marathon
The venue is vast, echoing with gaming passion. To survive the marathon, gear up with comfy shoes, hydration, and if you can, a portable seat. Those game demo queues can truly test your endurance! In fact, even the one-hour waits were often dubbed the "fast ones" by attendees.
10. Global Gaming Tour
Country pavilions serve as gateways to international gaming cultures. As a team that operates fully remotely across the globe with a rich international heritage, we might be a tad biased. But, traversing these pavilions truly sheds light on how games evolve based on their country of origin. For family visitors, it's a fantastic opportunity to illustrate to the youngest gamers that the foundations of our virtual escapades genuinely stem from the real world. These pavilions not only enrich your perspective but also drive home the reminder of gaming's deep real-world roots.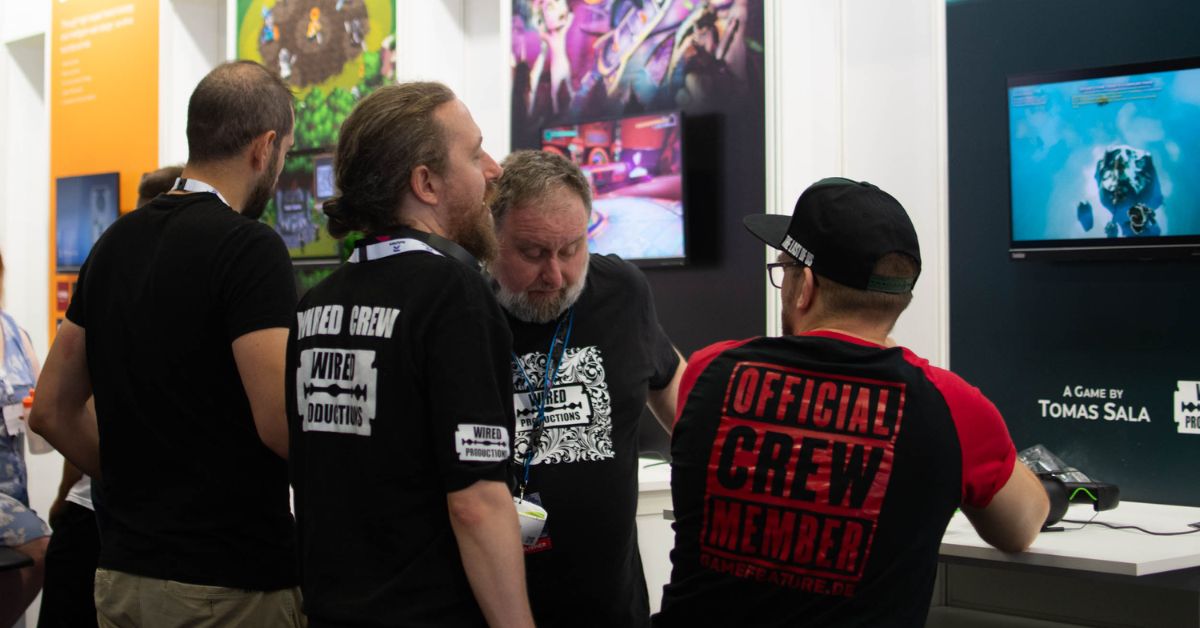 Bonus Level for Everyone:
11. Cologne Quest
Step outside the gaming fortress of Koelnmesse to embrace Cologne's charm. From the historic allure of the Cologne Cathedral to the serene Rheinauhafen dining by the river, there's much to explore. And for those seeking a chill downtime, Belgisches Viertel's laid-back vibe is a hit.
Final Save Point:
Gamescom 2023 wasn't just an event; it was an immersive gaming chapter. Each interaction, game, and tale speaks of the fervor driving the industry. Participating, even in side quests, makes for a thrilling gaming journey. Ready for the next level?
See you in 2024, Gamescom!